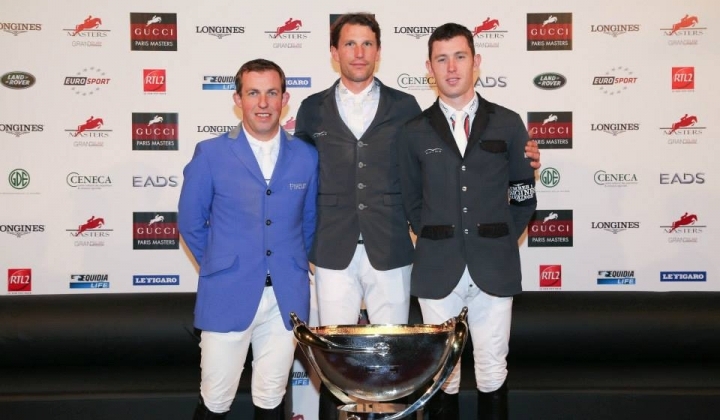 Jean-Luc Poulain, President of the Salon du Cheval de Paris: "I can only be delighted by the attendance rate of the Gucci Paris Masters increasing each year. It's a real advantage for the Salon."

Christophe Ameeuw, EEM: "This edition ended in a grand finale with a French victory in French territory. I'm very proud and touched by Kevin's (Staut) performance. Thank you to the public, the riders, the horses, to all the actors of the event, the sponsors, to everyone who contributed to the success of the Gucci Paris Masters. I believe that today we were rewarded for these 5 years of effort."

Virginie Couperie-Eiffel : "We were able to admire high quality sport in this Grand Prix Gucci, with an astonishing jump-off. The Gucci Paris Masters gathered the best couples in the world under the spotlight. They are the stars." (smiles)

Kevin Staut (FRA) / Silvana*HDC, 1st: "My two horses, Silvana and Cheyenne, were really very good. Recently it was more me who was in a delicate situation (Kevin Staut suffered of back problems). We experienced beautiful competitions this weekend. An event like the Gucci Paris Masters allows another level of media exposure and it's important for our sport."

Scott Brash (GBR) / Ursula XII, 2nd: "Ursula jumped very well and was fast in the jump-off. She was second in Verona, second here today, it's a good sign because she's still young."

Gerco Schröder (NED) / London, 3rd: "I think I was fast, I had to take risks but unfortunately not enough to beat Kevin. Having said that, I'm very happy with my 3rd place. It's a fantastic event with a very enthusiastic public."

Nelson Pessoa, show jumping legend: "The Grand Prix Gucci is super competition and I congratulate all the riders of the jump-off. Kevin's performance was extraordinary. Beating Scott (Brash) is very difficult, particularly now that he's in a state of grace."