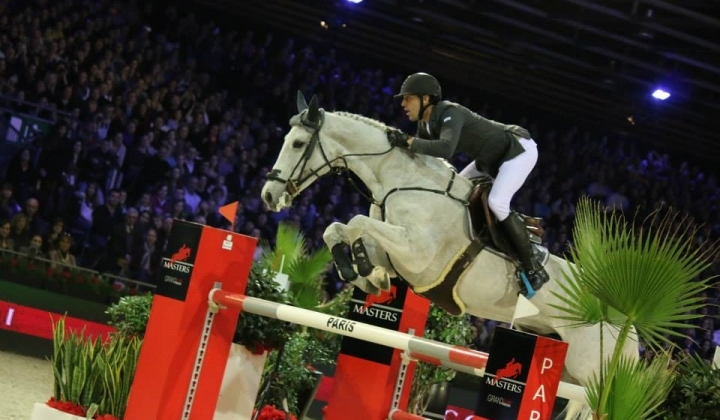 The spectators of the Gucci Paris Masters witnessed a beautiful moment of sport this afternoon with the Grand Prix Gucci brilliantly won by French Kevin Staut and his grey mare Silvana HDC.



The best riders in the world took part in this 5th edition of the Grand Prix Gucci (table A with a jump-off, 1.60m), high point of the Gucci Paris Masters. In order to participate in the jump-off, the competitors had to avoid the traps of the course designed by course designer Conrad Homfeld, including a double and a triple next close to the public.
Of the 40 couples of the competition, French Aymeric de Ponnat concluded the first clear round with his stud Armitages Boy. Then, the young 25 year old American Brianne Goutal also cleared the course with the son of Rosire, stud Nice de Prissey. Timothée Anciaume (FRA) and Padock du Plessis HN did likewise.
We had to wait for Christian Ahlmann (GER) and his beautiful grey horse Aragon Z for another clear round. Kevin Staut and Silvana HDC performed equally, followed by Maikel Van der Vleuten (NED) and VDL Groep Verdi, Simon Delestre (FRA) and Napoli du Ruy, Ludger Beerbaum (GER) and Chiara, Scott Brash (GBR) and Ursula XII, Gerco Schröder (NED) and London, Marcus Ehning (GER) and Cornado NRW and Edwina Tops-Alexander (AUS) and CEVO Itot du Château.
Kevin Staut and Silvana HDC were the fastest of the jump-off. The team world vice-champion mare (2010) and team European vice-champion (2011) showed that she didn't loose anything of her talent, allowing her rider to taste the joy of victory "at-home" in front of a enthusiastic audience !
Winner Friday evening (Longines Speed Challenge) and Saturday evening (Battle of the Sexes Longines) with Bon Ami, world no.1 Scott Brash had to settle this time to 2nd place with his mare Ursula XII.
Dutch Marco Schröder climbed on the 3rd step of the podium with his double Olympic vice-champion stud (individual and in the team event), London.