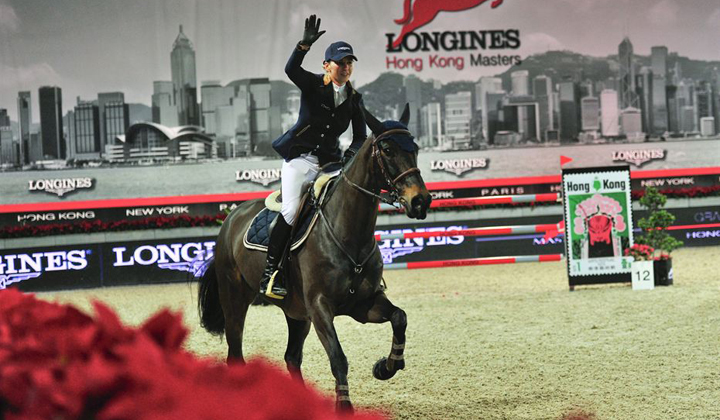 The 2014 edition of the Longines Speed Challenge is set to dazzle Hong Kong audiences once again on the opening night of the prestigious Longines Hong Kong Masters at AsiaWorld Expo.
The Longines Speed Challenge is a unique show jumping competition created by EEM for the Masters Grand Slam events in both Paris and Hong Kong. This year it will be worth $US 100,000 in prize money and the finest riders in the world will be riding against the clock as they scale 16 1.45m high fences.
The competition is a thrilling spectacle where speed and agility is all that counts. Riders and their horses must be fearless and go into the event with a clear strategy on how they can not only complete the course in the fastest time but also avoid penalties by clearing as many fences as possible without bringing rails crashing down. Each fence down adds a two second time penalty to a rider's finishing result- as opposed to the 4 seconds penalty commonly encountered in Speed Classes. Here a rail down becomes an incentive to go even faster!
Last year the inaugural Longines Speed Challenge was won by the Ukraine's Katharina Offel on Olivia de Nantuel in what was a stunning display of horsemanship.
Offel beat a tough line up of riders including Christian Ahlmann who at the time was ranked number 1 in the world.
This year, with the benefit of experience many riders are keen to try their luck on this contest and are going into it with a clear plan. French star Kevin Staut explained how carefully he will be selecting his Longines Speed Challenge horse and his deep desire to win the contest.
"The speed challenge in Hong Kong would be such a great event to win as the crowd really gets behind it. But you really must have the right horse so I will be extremely selective about who I bring for this," Staut said.
One of the stars of the Longines Speed Challenge in 2014 will no doubt be Roger-Yves Bost - known around the world as the 'flying Frenchman'. Bost has won the Longines Speed Challenge twice at the Paris Masters and is now eager to taste success in Hong Kong for the first time. Bost has one of the most unique riding styles on the circuit and captivates audiences with his sheer speed around a course.
The Longines Speed Challenge will take place on Friday February 21 from 9:30pm. It will be over in a flash so be on time for all the action so you don't miss a minute.