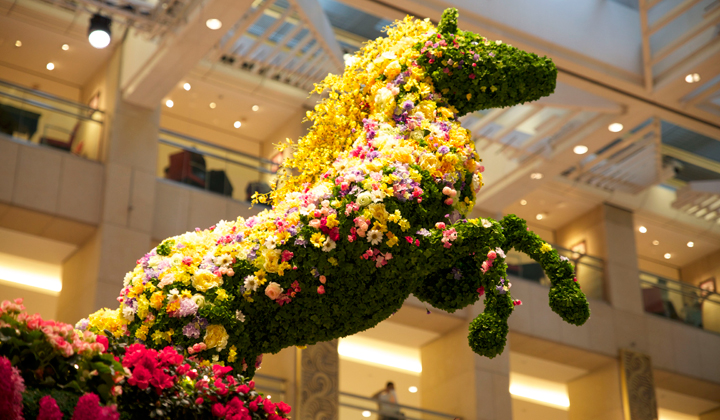 The new Moon on January 30 at 11:20pm begins the Chinese year of the Wood Horse.
The Wood Horse year is considered a time for fast victories, unexpected adventure and surprising romance. Energy is high and production is rewarded. Decisive action, not procrastination brings victory. You must act fast in a Horse year. These are all important values that can be applied to the spirit of competition at the second edition of the Longines Hong Kong Masters at AsiaWorld Expo that begin on February 21.
Chinese New Year is a hugely important celebration in Hong Kong and throughout Asia. It is a period when people enjoy time with their families and loved ones, travel and bear gifts for each other. Currently there are many beautiful Horse symbols on display throughout Hong Kong to celebrate Chinese New Year, including the Longines Hong Kong Masters horses. There are many major events in Hong Kong to celebrate CNY with one the biggest and most popular being a day at Sha Tin races this Sunday, February 2. Incredibly, more than 100,000 people attended this race meeting last year. This year you will see the Longines Hong Kong Masters horses on display throughout the racecourse.

Year of the Horse Facts:
In Chinese astrology, the Horse year is considered a fortunate year that brings luck and good things. The Horse is a hero in China because important battles were won due to its power and strength.
Horses have a carefree nature and need ample room for self expression. When constrained by rules, a proud Horse will rebel, refusing to be corralled or tamed. Horses will tell you exactly what is on their mind; they are frank and dislike hidden agendas. Celebrities born in the Year of the Horse include Aretha Franklin, Jackie Chan, Harrison Ford, Cindy Crawford and Jerry Seinfeld.
You have a chance at wild good fortune and sudden gain in the Horse year. But odds are much better if your birth year, birth month, birth day, or birth hour is Horse, Tiger, Dog, or Sheep. If these animals signs are not in your Four Pillars chart, then perhaps step aside and take a front-row seat to the Horse race. It will be all or nothing as life events move fast then are gone in a gallop!