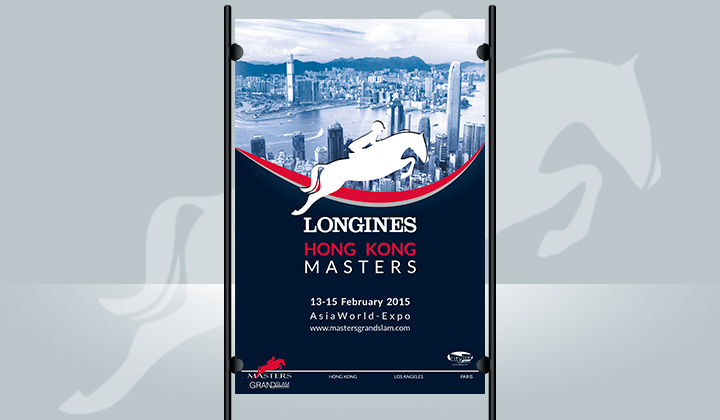 A WEEKEND OF EXHILARATION AND ELEGANCE : THE LONGINES HONG KONG MASTERS 2015
Asia's Largest Five-Star International Indoor Show Jumping Event Returns to Hong Kong for its third Edition, Hot off the Heels From Los Angeles and Paris
Hong Kong (November 11, 2014) Marking the start of Asia's 2015 'must-attend' social and sporting calendar, Asia's largest five-star international indoor show jumping event - The Longines Hong Kong Masters - returns for the third consecutive year to AsiaWorld-Expo from February 13 - 15, 2015, bringing together spectacular show jumping action and lifestyle entertainment under the same roof.
Tickets are priced from HK$330 to HK$980 and are available from November 11 with an early bird discount of 25% for a limited period until December 10, 2014.
A GLOBAL PHENOMENON: Masters Grand Slam Indoor across continents
2014 saw the realisation of the Masters global ambition with the first edition of the Longines Los Angeles Masters, last September, galvanizing equestrian passion from high profile guests such as Bill Gates, Michael Bloomberg, Bruce Springsteen, Angelica Huston, Andre Agassi and Stefanie Graf, fuelling a truly global equestrian trend crossing three continents.
Returning for its third year, the best show jumping riders and horses in the world will compete for 3 days for a total prize money of 1 million USD (approximately HKD7.8 million). The Hong Kong event in February 2015 promises a weekend of excitement and elegance with the most prestigious and graceful of equestrian sports, world-class Michelin-starred cuisine, contemporary art, designer fashion shows, champagne tasting, exclusive luxury shopping and much more.
Families will be able to enjoy and discover more about equestrian sports with a full program of family friendly activities including horse initiations, master-classes with international riders.
The main event will see the world's top 30 elite riders and their horses competing across several races to win an impressive prize of USD 1 million, which will guarantee nail-biting performances!
Christophe Ameeuw, founder and organizer of the Masters Grand Slam Indoor, commented: "The inaugural edition of the Longines Los Angles Masters last September 2014 marked a real milestone and the realization of the Masters Grand Slam across three major continents – Asia, Europe and America. We can't wait to return to Hong Kong in 2015 for the third consecutive year, with Longines as our Title Partner. We believe we are one step closer in our journey to making Hong Kong the equestrian capital of Asia." Longines President Walter von Känel commented: "We are thrilled about our long term partnership and excited for the third edition of the Longines Hong Kong Masters. This unique and prestigious event perfectly matches with our passion for equestrian sports and our brand's key value of elegance."
The Longines Hong Kong Masters brings the highest level of show jumping competition to Asia and combines iconic luxury with VIP entertainment and hospitality. Over the years the event has attracted high profile social and business guests such as David Belle, Qi Qi, Kathy Chow, Anne Wang-Liu, Winnie Yeung-Yuen Yin and Aaron Kwok.
DETAILS
WHAT: Longines Hong Kong Masters
WHEN: February 13 to February 15, 2015
TICKETING: Tickets are available at
www.cityline.com
, booking hotline at (852) 2111 5333 (10am to 8pm and Cityline Outlets at Tom Lee Music and AsiaWorld-Expo)